Rehearsals have begun for the CDF commission and Chicago premier of renowned choreographer Alexander Ekman's Two Become Three with Giordano Dance Chicago (GDC)! GDC was kind enough to send us pictures of their first rehearsal with Mr. Ekman at the Dance Center of Columbia College Chicago. We didn't think it'd be possible, but now we're even more excited for the upcoming Festival!
Check out the rest of the photos on our Facebook Page and Pinterest account. Want more information on the 2012 Chicago Dancing Festival? Click here for the event listings and mark your calendars as tickets are available beginning July 17th!
Welcome to Chicago Dancing Festival 2010!
Wednesday, August 25th, 2010
Welcome to Chicago Dancing Festival 2010! The Festival returns for its fourth annual engagement August 25-28. We are delighted and proud to welcome new faces, such as Ailey II, Ballet West, Juilliard Dance, Mark Morris Dance Group and guest artists from The Royal Ballet, as well as the return of fan favorites—Lar Lubovitch Dance Company, The Joffrey Ballet, Kanji Segawa, Wendy Whelan of NYCB, among others—to this three-day celebration of dance.
The Festival's free performances begin Thursday, August 26th at the Harris Theater for Music and Dance with a program titled "Modern Masters." The Joffrey Ballet will perform Crossed by Jessica Lang. Set to Mozart, Handel and des Prez, the piece is a reflection and reaction to music that was inspired by religion. LAST LOOK is a work created by one of the nation's greatest dancemakers, Paul Taylor, and will be performed by Juilliard Dance. Co-artistic director of the Festival, Lar Lubovitch, will be presenting his company, Lar Lubovitch Dance Company, in Coltrane's Favorite Things. This piece, set to music by John Coltrane, has been described as ribbons of movement that parallel the sheets of sound the music produces. Guest artists of the New York City Ballet. Wendy Whelan & Craig Hall, will perform the duet Liturgy by Christopher Wheeldon. This ballet, paired with a score by Arvo Pärt, emits a sense of spirituality brought on by the journey the dancers take. Mark Morris, recent recipient of the prestigious Leonard Bernstein Lifetime Achievement Award for the Elevation of Music in Society, will be represented twice during the Festival: Mark Morris Dance Group will perform V on Thursday's "Modern Masters" program and Grand Duo at Saturday's Pritzker Pavilion performance.
"The Dancing Skyline," which will take place Friday, August 27 at the Museum of Contemporary Art, is a lecture demonstration focused on the themes of architecture and dance, moderated by distinguished dance writer and critic Lucia Mauro, in conversation with world-acclaimed architect Dirk Denison and renowned choreographer and Festival director, Lar Lubovitch. Featured performances at this event are Lar Lubovitch's duet Meadow and the pas de deux from George Balanchine's Agon, both chosen for the architectural themes inherent in the choreography.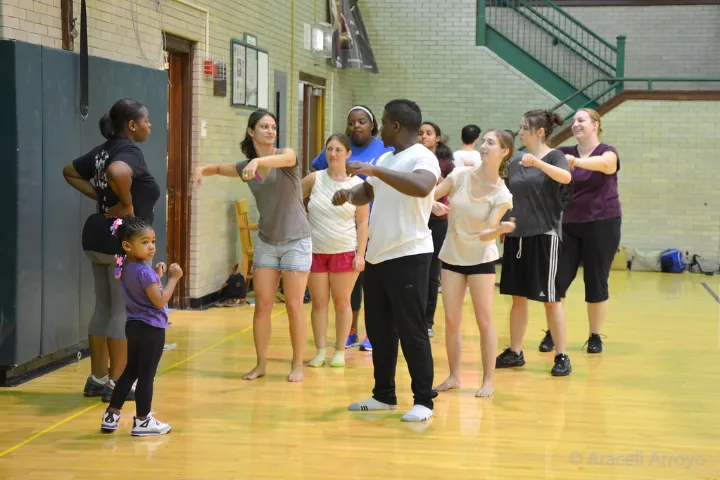 Saturday's "Celebration of Dance," the culminating performance of this year's Festival will be held, as always, at the Jay Pritzker Pavilion in Millennium Park. Some of the most esteemed dancers will share the stage in this outdoor concert under the stars. Mark Morris Dance Group will perform the tension-filled Grand Duo. Guest artists from The Royal Ballet will dance the pas de deux from Manon, by the great choreographer, Sir Kenneth MacMillan. George Balanchine's masterpiece Serenade, will be danced by Ballet West. One of the interesting aspects of Serenade is Balanchine's incorporation of random occurrences from rehearsal, such as a ballerina falling or the late arrival of a dancer. Robert Battle's Takademe, danced by Kanji Segawa, one of the crowd's favorite from Festival 2008, is a deconstruction of the complex rhythms of Indian Kathak. Clear shapes and propulsive jumps mimic the vocalized rhythmic music of Sheila Chandra's score. Mr. Battle, recently named artistic director designate of Alvin Ailey American Dance Theater, will also be represented by his work, The Hunt, performed by Ailey II. This ballet for six male dancers depicts the primitive nature of humans by comparing modern sports with gladiatorial rituals. The Joffrey Ballet's Exelon Strobel Step-Up Program kicks the evening off, and The Joffrey Ballet closes the show with an excerpt from Trinity (coincidentally subtitled Saturday!) Gerald Arpino, co-founder of the Joffrey Ballet, choreographed this work keeping in mind the tempestuous 1960s and 70s and celebrates youth and passion.
On Wednesday, August 25th, Chicago Dancing Festival presents its opening night gala, dedicated to its donors. We could not present the Festival's high-quality roster of free programming without the very generous support of our individual, foundation and corporate supporters. I thank our board of directors for their dedicated leadership and would like to give special thanks to our artistic directors, Lar Lubovitch and Jay Franke, for their passion for dance and vision in creating this special gift for all of Chicago.
Chicago Dancing Festival 2010 is packed with brilliant dancers performing the works of some of the world's most accomplished and renowned choreographers. I am thrilled to be able to share these performances with you. See you there!
Doin' Battle: Marc Macaranas hits up Hanna Brictson
Sunday, August 16th, 2009
Marc Macaranas is possibly River North Chicago Dance Company's biggest fan. He is also a founding member and astute dancer with DanceWorks Chicago (who will be performing as part of the Chicago Dancing Festival throughout the day in Millennium Park on Saturday August 22, 2009).
Hanna Brictson is in her sixth season with RivNo, dynamic and unforgettable she will be performing Robert Battle's Train with the company on Tuesday August 18th: New Voices at the Harris Theatre.Hanna Brictson is in her sixth season with RivNo, dynamic and unforgettable she will be performing Robert Battle's Train with the company on Tuesday August 18th: New Voices at the Harris Theatre.
Marc and Hanna have both worked with master choreographer Robert Battle. Recently they sat down to discuss their shared experience.
Marc
River North's style, to me, is very lush and expressive and makes use of a lot of port de bras; Robert Battle's style is definitely not the same. How would you say that Train has evolved into the signature River North piece that it is now?
Hanna
I think the reason it's evolved into a River North piece is because of the intent behind it. I find a lot of our pieces, at least for me, are emotionally connected, and that's how I connect with the audience. So although this is on a completely different level, River North is not harsh usually, I'm able to connect to the audience with that same River North style. It's not so much about the movement, it's about the feeling you get from it – that makes it River North.
Marc
DanceWorks Chicago also has two of Robert's pieces, Etude and Takademe, and doing his work is some of the most physically demanding dance that I've done; what energy do you have to channel to meet the physicality of the work or is there ever a moment you can just "phone it in"?
Hanna
Ok, definitely never phone it in – I can never do that. I think it's a calmness I need to have, which sounds completely opposite, but I think to start from that, almost as if it was a silence – it's a place to build from. Sometimes you get through it at that calm level and then your will power kicks in at the last minute.
Marc
So there's two different kinds of energy? A physical energy and a mental stamina?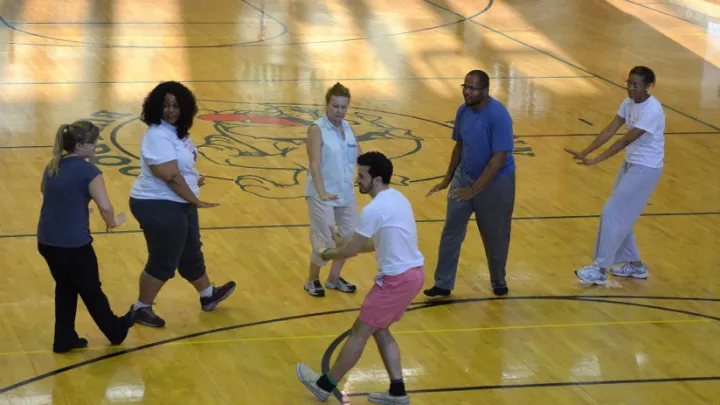 Hanna
I feel like the mental stamina is there from the beginning… when I start, the intensity is there in my mind, but physically I'm coming from a place where I know how to work things, and I'm coming from my knowledge as a dancer – how to use your body, how to work through things, and then at a certain point, I can't use my knowledge, I can't use my technique, I can't use what people have taught me; all I can use, literally (I know it sounds corny), is how much power I have inside of me, and then it's something I can't even describe… it's part of what makes me live, that strength that you need sometimes.
Marc
Specifically when performing Train or when you do any River North rep?
Hanna
Train has totally pulled out a different side of myself and a different side of my physical self, and I've never felt like I had to pull physically to get myself through something the way I have with Train, I can't even compare it to anything else.
Marc
I think Etude and Train come from different vocabularies, but they definitely come from the same voice. What would you describe that voice to be, that intent?
Hanna
For some reason, the word "life" comes to mind. Robert didn't give us a whole lot of direction on what the reason was behind what we were doing, so i've had to create that – for me it's how I've gotten to this point in my life. I think that when I'm dancing Robert's stuff, it's that journey through those times you don't want to talk about anymore but you let it out through those 3 minutes.
Marc
We both know that Robert works very quickly. Do you think the intensity of that short period speaks to the style of the movement? Do you think it would change if given a longer creative process?
Hanna
I think it probably would have changed if [the process] was longer. When he sets it so quickly, it never gets to that finished cleanliness that it'll get because you rehearse it plenty of times, but from what you know of how it's supposed to be, it always continues to stay in that raw stage… I feel like a lot choreographers want to start cleaning before they finish their works and he didn't feel the need to that, he left it up to us. When you see it that quickly, and that movement is crazy fast, it's going to be raw, it's going to be whatever you make of it.
Marc
Do you think the piece has maintained the same integrity or purity as when Robert come to create it on you, or has it become something else to take on that River North quality?
Hanna
I think it evolves every time we do it, the nature of getting stronger at it and deciding what you want to make of it every time. I've never thought of it in a River North way… I keep it in a separate world, I just think of it as Train, I don't even think of it as a piece of River North's rep, I think of it as Robert Battle's Train.
Getting "Familiar" with Jessica Lang | Interview by Jay Franke
Monday, August 10th, 2009
Jessica Lang is in Chicago setting her world premiere that will be a part of the Joffrey 09-10 dance season. Young and extremely gifted, she is also one of the "New Voices" selected to present her work as part of the 2010 Chicago Dancing Festival. Jay Franke, co-founder/artistic director of the festival recently sat down with Jessica to discuss her piece To Familiar Spaces in Dream that will be performed by the Richmond Ballet on August 18th at the Harris Theatre for Music and Dance at Millennium Park.
jF
In this piece, you have used music by 3 different composers: Philip Glass, John Cage, and Craig Armstrong. What connections did you make between these 3 musical compositions and the movement?
jL
To Familiar Spaces in Dreamis the second part of a two-piece full evening idea about piano music. I chose these musical selections because my piece uses contemporary piano music as its inspiration and I liked the mood and depth these composers captured through this single instrument. The piece has a set of 8 white boxes representing the white keys on the piano, all various lengths as well as 8 dancers, this number representing the idea of an octave in music. I wanted to explore the percussive side of the piano so that is I why I chose the John Cage piece because it uses a prepared piano and gives nice opposition to the Glass and Armstrong selections. The movement helps take this idea beyond its logical concept and open up channels for emotional reactions and deeper meaning. The sister piece to this is called From Foreign Lands and People… (Commissioned by Colorado Ballet, 2005).That work, to classical piano music, has a set of 5 long black boxes, representing the black keys on the piano, 2 long and 3 short indicating their arrangement on a piano. The full picture is that the entire piece From Foreign Lands and People…To Familiar Spaces in Dream could be on a program together giving an insightful look at how this one instrument can be versatile in sound and feeling, both a percussive and string instrument.
jF
What was the creation process like for you and the dancers at Richmond Ballet in regards to the 8 boxes used in the piece?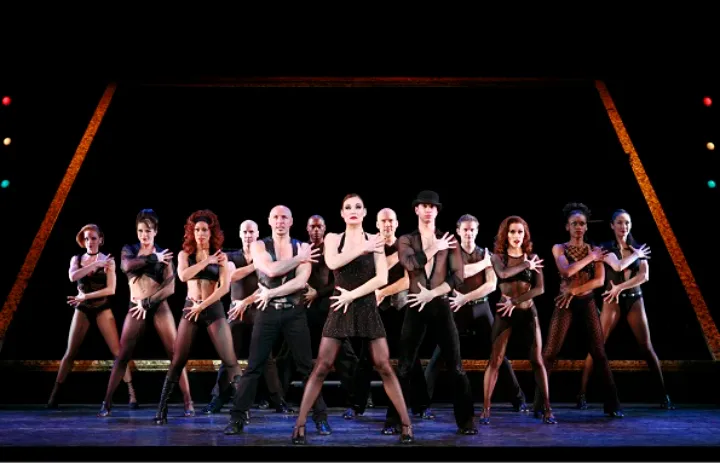 jL
We designed the boxes and had them made before I got to Richmond so I could start on day one with them in the space. When I create with objects, they are physically used, not just set up in the background. There were 16 objects in the studio that day that I had to make into a piece, 8 dancers and 8 boxes, and I knew it was my job to make them have a purpose and be present on stage. The challenge is that the boxes are quite heavy, and they don't reset themselves as I created the choreography. So there was a lot of time spent just dragging them around the space and resetting them so we could try the phrase or idea again. It could have been exhausting, but it was just part of the process that I think both the dancers and I knew we had to do and we became really excited by what we were creating.
jF
In much of your work you incorporate scenic elements and props- what challenges do these elements hold for you as a choreographer?
jL
I became really interested using props and other elements in my work because of the challenges they propose and the way my imagination began to run wild with images. How can I create a piece where the scenic elements add meaning to the overall work and are not merely a trick to falsely excite the audience?
My challenge lies in craft and relating every element that goes into the piece (music, sets, costumes, lighting) to each other. If a prop or set does not add meaning to the piece, I don't use it. I am really focused on the craft of making dance, the overall painting of the piece. I do not get obsessed with trying to investigate movement or the steps and I don't find it necessary to focus on movement invention. It has all been done. I am not going to reinvent the arabasque or create a new technique. I create dance where musicality is extremely important, there is a sense of humanity in the movement, the movement feels good on your body and that the audience, no matter their experience with dance, is part of the end result.
jF
Your husband, Kanji Segawa, electrified our audience last year with his stunning solo of Robert Battle's piece "Takademe." How do you balance your busy work schedules with time together?
jL
He is amazing in "Takademe"!! And I am not saying that because I am married to him!! I am so happy he was able to share his performance of this piece in particular with your audience because it is really a great experience when the right artist meets the right piece of choreography. It is just magic! Unfortunately, I missed it. I was creating a new work on Cincinnati Ballet and I just could not get away. We are always busy and since we met 10 years ago we have had a schedule like this. As freelance artists, you take work when you get work and you are just so grateful for it! We are quite used to the time apart, and although the good-byes are hard, we both are so happy for each other that we are able to do what we love and what we have trained our whole lives for. Neither of us would take away the opportunities so that we could be together. We travel with each other when our schedules permit and we cherish our time together. For example, Kanji just came with me for the first 2 weeks while I was at Joffrey and came everyday to help me in the studio. We have fun working together. We try not to go more that a month without a visit. And when we come home from tours, we have that excitement to share what we did and what we accomplished. We have such an understanding of what our lives are with careers in dance that this is just perfectly natural for us.
jF
…and on that note, what does Jessica Lang's calendar look like for this upcoming year?
jL
I have been in Chicago since July 26th working with Joffrey Ballet on a premiere and I don't settle home again until November 15th. This is one of my longest stretches I have ever had that I go from job to job directly. Immediately after the festival performance I will travel with Richmond Ballet to create my 5th premiere on the company. I will go back to NYC for 3 days to teach a new course on choreography for the NYU/ ABT program before Kanji and I travel to Texas Christian University where I will set one of my works and he will set one of Robert Battles' pieces. After this I will go to Kansas City Ballet to create a premiere and simultaneously set one of my works on the company in a month, then I am off to a residency at Goucher College to set a work and teach, then back to Richmond to premiere the new work, and finish up this trip with a new creation on the University of Richmond. I can't believe when I go home it will be the end of fall and almost Thanksgiving! And that is just the travel itinerary for this year. But like I said I am grateful to be working, and even more so because I love what I do! And I can't forget that I will be back in Chicago in April 2010 to premiere my Joffrey piece!
It's a small world after all… Part 3 – Michael Snipe Jr interviews Linda-Denise Fisher-Harrell!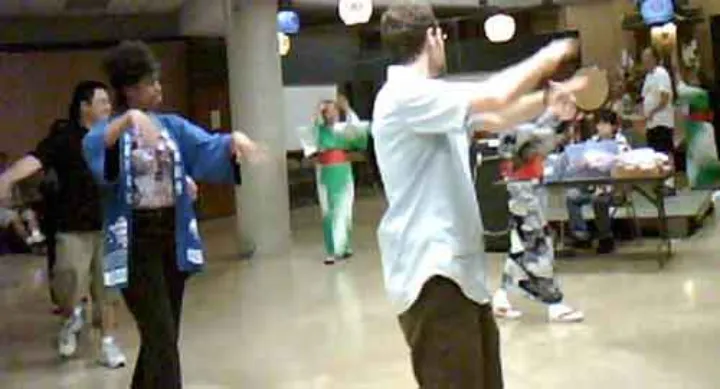 Wednesday, August 5th, 2009
Linda-Denise Fisher-Harrell | Photo by Andrew Eccles
I recently asked Michael Snipe Jr to interview Linda-Denise Fisher-Harrell while she was in Chicago teaching for the Hubbard Street summer intensive. Check out this interesting conversation between two friends as they discuss Chicago ties, Fisher-Harrell's take on Alvin Ailey's Cry and life after Alvin Ailey American Dance Theater. Thanks Michael and Linda for this great read!
Michael Snipe Jr: So Linda, I know that you've come through Chicago for many years throughout your career with Ailey, but do you have any other connections with Chicago?
Linda-Denise Fisher-Harrell: Yes, after I left Juilliard I danced with Hubbard Street Dance Chicago before joining The Ailey Company.
MSJr: Have you any connections with Jay Franke and Lar Lubovitch, the two founders of the Chicago Dancing Festival.
LDFH: Well, I just found out that some years after me, Jay Franke also attended the Juilliard School and then joined Hubbard Street Dance Chicago, and I worked with Lar Lubovitch on 3 separate occasions while at Ailey. The first piece I did was a 15-minute duet called Fandango, set to Maurice Ravel's Bolero. The second was called Cavalcade and the third was The Time Before The Time After (After The Time Before)…
MSJr: So you're going to be performing Mr. Ailey's solo Cry here at the Festival, how does that make you feel?
LDFH: Nervous, Tired, Scared, Excited…Many, many things are going through my mind.
MSJr: You learned it 13 years ago, and I know it's a long solo, do you still worry about stamina, or can you just get into a groove and perform it.
LDFH: OH yes, stamina is still an issue, especially since I've been away from the company for a while, but my being away from the company and the solo will also contribute to and enhance my performance.
MSJr: How so?
LDFH: Dancing can be so self absorbed at times and when I used to do the solo, it was a lot about the steps and getting through it. Now that I have stepped away from performing as much, I am teaching and mentoring. I had a baby girl, and I've just been experiencing other aspects of life, all of those factors will contribute to my journey in the solo.
MSJr: And what a journey it is. I know that there are three sections to the solo. Do you have a favorite?
LDFH: I will have to say it's a toss up between the first and the second sections. With the first section, you have the cloth and it can be used in so many ways. As it lies in your arms it can be a body that you're mourning over. When on the floor it can be represented as you scrubbing blood off the floor and as a slave cleaning…but just as easy as you are cleaning the floor with it, you take it and wrap it around your head and you become this noble queen. It's amazing. The second section allows you to lose yourself emotionally. You can dig deep within yourself through the music and you'll be surprised with what you might find.
MSJr: That sounds fantastic Linda. I know many people are excited to have you back in Chicago and to be a part of the Chicago Dancing Festival. What's the largest audience you've ever performed for?
LDFH: I think it will be for this festival. I've performed in Athens, Greece at the Herodes Atticus Theater and they attract huge crowds, but I heard last year there were about 10,000 people here for the Chicago Dancing Festival. Now, that's exciting.
––
Don't miss Linda-Denise Fisher-Harrell's exciting performance of Alvin Ailey's Cry on Saturday, August 22 at the Celebration of American Dance in Millennium Park! Be sure to come early to nab your seats at the Pritzker Pavilion or stake out a plot on the lawn – this is definitely going to be the dance event of the year!
It's a small world after all… Part 2
Wednesday, July 29th, 2009
Photo by Lois Greenfield
Let's take a look at Craig Hall who, like Jonathan Alsberry, studied at the Chicago Academy for the Arts. Originally from Maywood, IL, he's now a soloist with New York City Ballet and will be performing with NYCB principal dancer Wendy Whelan at the Festival this year. Look for them at the Modern Masters program on August 20 at the Harris Theater where they will be performing a pas deux from Christopher Wheeldon's "Liturgy". Chicago audiences might be familiar with Wheeldon's work as his "Carousel (A Dance)" was performed by the Joffrey Ballet for their Spring season earlier this year.
Check out this awesome article about Craig Hall to learn a little more about his start as a dancer – as well as interesting tidbit involving "Age of Innocence" choreographer Edwaard Liang's hairdryer 🙂 The Joffrey will perform Liang's work, first premiered by the company last Fall, at the New Voices program on August 18.
Jessica Lang, whose "To Familiar Spaces in Dream" will be performed at New Voices by Richmond Ballet, follows suit with her homonym contemporary Ed Liang (and Ed's NCYB compatriot Chris Wheeldon) — Lang is set to create a work on the Joffrey Ballet for their upcoming season.
Did you get all that?
Here's the Cliff Notes version (don't worry, you won't be tested on any of this):
Craig Hall and Jonathan Alsberry – Chicago Academy for the Arts
Craig and Ed Liang, Wendy Whelan and Christopher Wheeldon – New York City Ballet
Ed Liang, Chris Wheeldon and Jessica Lang – Joffrey Ballet
Jonathan Alsberry – Luna Negra, Lar Lubovitch Dance Company and Aszure Barton & Artists
Aszure Barton – Hubbard Street Dance Chicago
And that's just a quick look! To find out more about the dancers and the ties that bind them, meet them in person following each performance. Our hotel sponsor, the Palmer House Hilton, is helping us put together a series of fantastic parties to celebrate the festival events. We'll see you there after the shows!
Interview with Trey McIntyre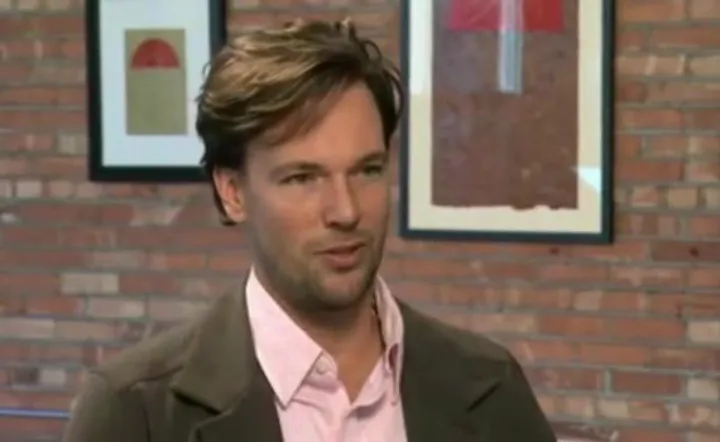 Wednesday, July 29th, 2009
We sat down briefly this week with Trey McIntyre to discuss his piece, Just, that Oregon Ballet is performing at the New Voices concert, Tuesday, Aug. 18.
Chicago Dancing Festival: Most of your work seems to be created to popular music; was there a particular challenge, or different method in choreographing to Henry Cowell's more classical composition?
Trey McIntyre: There is a different method and challenge to creating any piece. The difference isn't so much in the musical choice as in the content and what the work finds itself to be about.
CDF: Are there relationships or stories within the couples or between the couples?
TM: Sure, but not in a linear sense like she loves him and he loves her.
CDF: You were resident choreographer in Portland, and Artur and Alison worked with Trey McIntyre Project. Did knowing these dancers influence the creation of Just? How was it different than creating work as a guest choreographer with other companies?
TM: It made a huge difference. The more I know a dancer, the further we can go. It's one of the main reasons for starting Trey McIntyre Project. I've been working with companies all over the world for over 20 years and had truly reached a ceiling in terms of growth. There are basics we have established. Developed intuition. Trust. A deepening of ideas.
CDF: There are difficult ballet steps in Just. Is it your most challenging piece for dancers technically?
TM: No, but perhaps the most exposing technically. Not much to the costumes.
CDF: Any other behind-the-scenes points that may be of interest?
TM: The costumes were created by first time costume designer Patrick Long of Portland, Oregon.
It's a small world after all… Part 1
Friday, July 24th, 2009
Photo by Todd Rosenberg
Ever stopped to think about about how small the dance world really is? You might be surprised to learn just how tightly knit the dance web is sewn. Here's the first of two blogs that look simply (or not so simply, as you'll discover) at the artists performing in this year's Chicago Dancing Festival. (more…)
Public Enemies, Othello, Chicago Dancing Festival & MJ's Bad
Thursday, July 9th, 2009
I've read two great articles recently on Elliot Goldenthal, the composer of the current movie, Public Enemies (found here and here). They caught my eye because Goldenthal also composed the music for the full-length dramatic ballet Othello, originally choreographed for American Ballet Theater and San Francisco Ballet by our very own Lar Lubovitch (Co-Artistic Director of CDF.)
from Joffrey.org
The San Francisco Chronicle called the ballet "a major new chapter in American ballet." Lar is now setting Othello on the Joffrey Ballet for its upcoming fall season. You can see the Joffrey perform in two of the CDF 09 performances, New Voices (Aug. 18) and Modern Masters (Aug. 20).
Speaking of Othello-related things you'll see at the festival – star-dancer Desmond Richardson performed in CDF 07 and danced the leading role in Othello both at American Ballet Theater and San Francisco Ballet. And, I just recently learned, he also danced in Michael Jackson's "Bad" video! If anyone knows more about Desmond's appearance in "Bad" and would like to share, please post your comments here.
Welcome to the third-annual Chicago Dancing Festival
Monday, June 22nd, 2009
Welcome to the third-annual Chicago Dancing Festival. This year promises to be our best yet. The Festival has expanded to a five-day event starting Tuesday, August 18 at the Harris Theater for Music and Dance and ending with a Saturday, August 22 performance at the Jay Pritzker Pavilion, Millennium Park. In between, we are adding a second performance at the Harris Theater and collaborating with the Museum of Contemporary Art in its Artists Up Close series. And like previous years, all Chicago Dancing Festival events are free!